Target Area Homes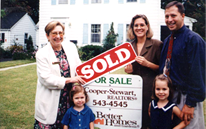 SNHS has focused its revitalization efforts in the following areas:
Newtown/Johnson Lake Area
Foreclosure Prevention
As the country's mortgage crisis continues to place more and more homeowners in our region at risk, SNHS is offering immediate assistance through a series of strategies.
Meeting the Foreclosure Crisis Head On
We've developed a comprehensive response to the foreclosure crisis that includes community education, outreach to at-risk homeowners, foreclosure mitigation counseling services and strategic partnerships.
SNHS Counseling Staff
SNHS's experienced counseling staff has been trained in foreclosure mitigation counseling and works with each at-risk homeowner and their lender to find a workable alternative to foreclosure. This process includes: helping the client to understand and face their current hardship, coming up with a budget and financial strategy to take positive steps to curing the delinquency. We will intervene directly with the lender and work to find the best possible solution to the situation. If you or someone you know is missing mortgage payments, SNHS can offer a helping hand. Our foreclosure counseling services are FREE!
Jane Hoy, Assistant Director