The Diaz Family Makes Themselves At Home in Somerset County
In 2019, SNHS began to discuss ways to expand our services to neighboring counties and create more homeowners. One solution was to help clients purchase with the assistance of a downpayment and closing cost loan for Somerset and Worcester County residents. Now, insert the Diaz Family.  Here is the story of their journey.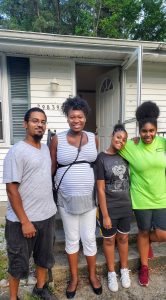 Mr. and Mrs. Diaz have two young girls, 13 and 14 with another one on the way in September 2020.  Having this in mind, their family began to look for a house to call home.  With a goal of purchasing in Somerset County, they began working with a company, however it did not turn out as they hoped. 
Mrs. Diaz said, "we were dealing with another company that sold us false dreams for over a year until they told us we were beating a dead horse. So, we kept looking for a realtor and mortgage company that would accept us.  Upon talking with a friend, Ms. Givens, she recommended that we call SNHS."
Asst. Executive Director, Jane Hoy, was able to discuss options through the Salisbury NHS. She explained a new product and helped the family apply to become the first Somerset County downpayment and closing cost loan client.  Finally, things were working in their favor, thanks to Hebron Savings Bank and Mrs. Vandergrift, Realtor Bob Heim, Brennan Title Company and High Tech Inspections.  These housing industry professionals were able to help navigate things like the home inspection, settlement process and advocate for the soon to be homeowners.  
Fast forward a few months later and the happy family, along with their two cats, bearded dragon and bunny rabbit now call Crisfield, "HOME."  Mrs. Diaz says, "homeownership has made my family and I so ecstatic.  We are happy to be away from the bad happenings of where we used to live.  We love the peacefulness and freedom to walk outside in our own yard and make any changes we want to our new home. My husband, William has made quite a few renovations with more coming."
When asked if there is one tip the family could give a prospective homeowner, The Diaz's said, "do not give up on owning a home.  It is possible.  There are people out there willing to help. Do not ever give up when you know you are meant for something better, something more."