From Idaho to Salisbury, MD – A Homeowner Turns an Unfortunate Situation into a Happy Story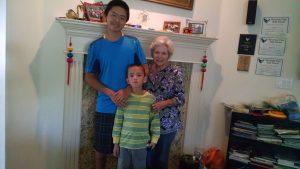 Meet, Jo Ann Gordon.  She is a new homeowner as of December 2018 and bought within the city limits of Salisbury.  Here is her story.
My house hunt began in Delaware and despite my best efforts to plan ahead, I was off to a rough start. I was moving from Idaho to the Delaware or Maryland area to be near my youngest grandson who has special needs.  My difficulty in working with a realtor in Delaware resulted in returning to my current living situation after a month of searching for a home. 
I was beginning to change my search from buying to renting when I received a call from Long & Foster Real Estate Agents, Millie Cappello and Donna Malone. Somehow the real estate search website I was utilizing picked up on my dilemma and they reached out over the phone.  I now felt encouraged that homeownership was for me.
After speaking with them, I decided to load up my cats and driving my own car, head for Maryland.  When I arrived, Donna and Millie had a prepared list of homes in my price range. They really were looking out for my best interest. I found the house I wanted our first day out. 
Knowing the industry and homebuying process, Millie and Donna contacted a local mortgage lender.  They reached out to Liz Buckley at Movement Mortgage who I understand then reached out to Jane Hoy with SNHS.
Even though I had money to put down on a house priced less than $100,000, it wasn't enough because my budget on a fixed income was too tight. A $5,000 grant from SNHS and an FHA loan made the purchase possible.  I was able to utilize the funds because I purchased a home within the Salisbury city limits. 
On my budget, buying was a better option than renting. My house payments are less than rent. My mortgage is at a fixed rate, I don't have to worry about it increasing. Most importantly is I have a home near my youngest grandson and I'm close enough to see the older one when he can visit.
I will always be grateful for their guidance and helping turn an unfortunate situation into a happy story.  If I can offer any advice to homebuyers, it's buy below your means and enjoy life with family and friends.